This is the only way how LeBron James needs to win in order to surpass Michael Jordan as the GOAT.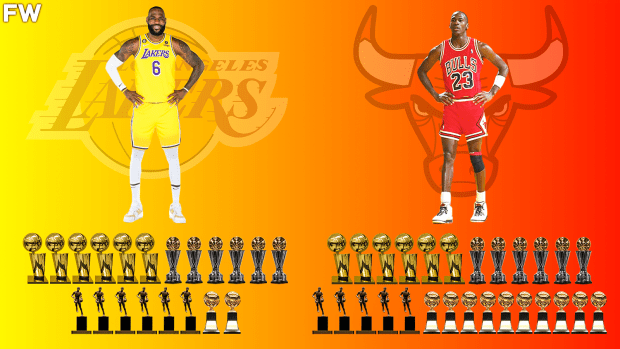 LeBron James has seriously thrown his name into the GOAT conversation after breaking the all-time scoring record this season, passing Kareem Abdul-Jabbar in his 20th NBA season. For two decades in a row, LeBron has been one of the most talented players in the world with both physical and mental gifts that allow him to dominate the game. Ever since his rookie season, he was being compared to the likes of Michael Jordan and Magic Johnson and he has not disappointed anybody. In many ways, he has exceeded expectations in what he has accomplished because nobody could have predicted The King would end up the all-time scoring leader.
However, as great as LeBron has been due to longevity and owning the scoring record, he has never come close to Michael Jordan in terms of resume, impact, and skills. Jordan is the man whom every player fights to eclipse because he is widely considered the best basketball player ever. The superstar shooting guard accomplished everything on a team and individual level and is the undisputed face of the 1990s decade. Even if Michael did not play as long as LeBron, and certainly never was as great for as long, what he did over 15 seasons was simply unbelievable because he won six NBA titles, six Finals MVPs, five MVPs, and ten scoring titles.
It is always hard to compare the achievements and awards of any player to Michael Jordan's because there is only one GOAT. However, James still seems to be capable of playing at a high level at 38 years old and could have another few seasons under his belt if he can stay healthy. No resume is fixed forever and James has a chance to achieve some more important accolades to convince the masses that he is indeed the greatest player of all time. As it stands, Michael Jordan is the GOAT over LeBron but James can achieve a few more things to shift the argument firmly in his favor as he is already the all-time scoring leader. Here is what LeBron James must win in order to surpass His Airness Michael Jordan as the greatest player of all time.
---
1 Scoring Title
No player has ever been as dominant as Michael Jordan on the offensive end. Wilt Chamberlain was able to score 100 points in a single game, win seven scoring championships, and average 50.4 points per game in a single season. But Michael basically had a complete career's worth of dominant scoring stats, in contrast to Wilt's amazing numbers at various stages in his career. Jordan concluded his career with a 30.1 PPG scoring average and won a whopping 10 scoring titles. Jordan is the best scorer ever thanks to his automatic jump shot, unmatched agility, and shocking efficiency as a score-first player. For LeBron James to surpass Michael, he must have more than only one scoring title.
LeBron James is the all-time leading scorer in NBA history, but he is still not the greatest offensive player of all time. The King managed to win only one scoring title, and that came in 2008 when he posted 30.0 PPG on 48.4% FG, 31.5% 3-PT FG, and 71.2% FT. Armed with spectacular physical traits and tremendous finishing ability, James has to be regarded as a top-10 scorer ever although he is not on Jordan's level and it is by quite a margin. If James can win at least one more scoring title, he breaks the stigma that he broke the scoring record due to more than simply longevity. Quite frankly, Jordan's 10 scoring titles are insurmountable but James can somehow get closer if he has more than one scoring title. In many ways, this is the easiest and fairest category for James to accomplish out of all the others he must have to ever dream of reaching Michael.
---
1 MVP Award
Considering he played in a brutal era where toughness, size, and external factors influenced the NBA game, Michael Jordan undoubtedly deserved more than five MVP awards but still has one more than LeBron James. As the player with the second-most MVPs, five MVPs are still a sizable collection of accomplishments. Jordan, the best guard to ever live, was a force on both sides of the court and deserved every MVP award he won. Only Kareem Abdul-Jabbar (six MVP awards) won more than Michael and Bill Russell, who each have five. For LeBron James to have a chance at surpassing Jordan, he must even the field in one of the three most important individual categories.
As it stands, James has one less MVP award than Jordan. LeBron James was also unlucky not to have more MVP awards because he suffered from being too big and too strong in the NBA year after year. Similar to Shaquille O'Neal, James was ar stronger and more athletic than everyone else and that is why he was undercut in some seasons. Winning four MVP awards does signify that The King was the best player of his generation, and certainly the greatest player of the 2010s decade. In order to allow his all-time scoring record and impressive 20-year resume shine, he can't have fewer MVP awards than Jordan which means he needs one more by the age of 39, 40, or 41 if he plays three more seasons.
---
2 NBA Championships
Michael Jordan won six NBA titles through two different three-peats with the Chicago Bulls. That is an incredible way to solidify a GOAT debate because capturing 6 titles as the best player on the team is rare and very hard to achieve. Jordan was lucky to play under Phil Jackson and also with other all-time great players including Scottie Pippen and Dennis Rodman, but the shooting guard was the undisputed main reason why the Bulls were so dominant. Not to mention, Jordan won all his rings in a continuous fashion disregarding his first retirement and the competition he took out. He beat legends and Hall of Famers including Magic Johnson, Isiah Thomas, Karl Malone, John Stockton, Charles Barkley, Gary Payton, Shawn Kemp, Patrick Ewing, and Clyde Drexler on his path to domination. Jordan also prevented Malone, Stockton, Barkley, Ewing, and Kemp from ever winning an NBA title.
LeBron James must win two more NBA titles to have a chance at surpassing Michael Jordan as the greatest player of all time. It will be very hard to give LeBron a shot to pass MJ if he only has four NBA titles with a 4-6 Finals record. With two NBA titles, James equals Jordan's number of rings and this is a fair and reasonable expectation for the man who has shattered the all-time scoring record. Whether James can win rings or not remains to be seen with the Lakers, but if the team can continue improving the roster, it is possible because Anthony Davis is one of the best players in the world when healthy and motivated. The King can also leave the Lakers and do what he does best in terms of finding a new team with star players to place himself in a position to succeed. The GOAT chase must be a fair one, and it can only be considered if LeBron has the same number of championships as Michael Jordan.
---
2 Finals MVPs
Even if LeBron James wins two NBA titles, he must capture both Finals MVP awards. The reason? Jordan has six Finals MVPs to go along with his six NBA titles with a 6-0 record. If James acts as a sidekick on even one of his championship victories, it won't look good for him in the title debate. In many ways, his achievements must be accomplished in order because capturing two NBA titles places him on the map but winning both Finals MVPs gives him the strong chance to become the undisputed GOAT.
Michael Jordan took charge of every game the Chicago Bulls played in the NBA Finals to win every Finals MVP award. In each of the championship Bulls squads that defeated the opposition during the two separate three-peats, the star shooting guard was the team's greatest player. The fact that MJ never even forced a Game 7 is truly incredible, but James does not have to compete in those little details. The King must win his accolades on a broader level because capturing six Finals MVPs would look absolutely incredible on the player's resume which also includes the all-time scoring record.
---
LeBron James Becomes The GOAT With 6 NBA Titles, 6 Finals MVPs, 5 MVPs, And The All-Time Scoring Record
LeBron James has an edge over Michael Jordan in the all-time scoring record because nobody ever dreamed of seeing someone break Kareem Abdul-Jabbar's milestone. The King turned on the scoring at an extremely high level over the past two seasons, especially since the Los Angeles Lakers were going nowhere, and scoring the ball was the only thing James could do to salvage horrible seasons. Unfortunately, going after the scoring record might have taken its toll on the player's body as he is nursing an injury.
James will play in his 21st season next year and will be 39 years old. That means he has his chance to win his second scoring title next year before he turns 40 years old and seriously starts getting old in terms of his health and impact. At 39 years old, James can be young enough to continue his scoring and check that off his resume. At the same time, LeBron might be able to win the MVP award if he continues to be the best player on the Lakers next year if the team improves with its collection of talent. If the Lakers somehow can acquire Kyrie Irving and Draymond Green, for example, there is no surprise if the team captures a top-2 seed in the West. If James stays healthy and scores as the best player on the roster, he can also capture his 5th MVP award. Of course, James can go after the MVP award in his 40s although it will be harder.
If the Lakers do continue to improve the roster around LeBron, he could realistically win his 5th and 6th NBA titles. Is there any doubt who would be the Finals MVPs on both occasions? James has won the Finals MVP award in every Finals series he has won, and that means he has captured four Finals MVPs over ten appearances. With two more NBA titles to his name, James can be 6-6 in the Finals and that will also equal the number of wins that Jordan has. Some might argue that it took 12 Finals appearances for LeBron to win six titles while it only took Jordan six appearances. But a 6-6 record with six titles, six Finals MVPs, five MVPs, and two scoring titles looks tremendously impressive alongside his all-time scoring record.
Michael Jordan's shadow is truly the largest when players try to chase it. What Jordan achieved over his 15-year career despite two retirement phases is truly incredible, because he could have realistically won eight NBA titles and eight Finals MVPs to go along with 12 scoring titles had he never retired. If that happened, kiss any chance for LeBron to catch MJ goodbye. Since Jordan retired and also had two negligible seasons before his career ended, LeBron has a window to make a very strong argument for being the GOAT. He must equal Jordan's number of NBA titles, Finals MVPs, and MVP awards to allow his all-time scoring record to truly shine in his favor for the GOAT debate.
We sincerely appreciate and respect you as a reader of our site. It would help us a lot if you follow us on Google News because of the latest update.

Thanks for following us. We really appreciate your support.
Next