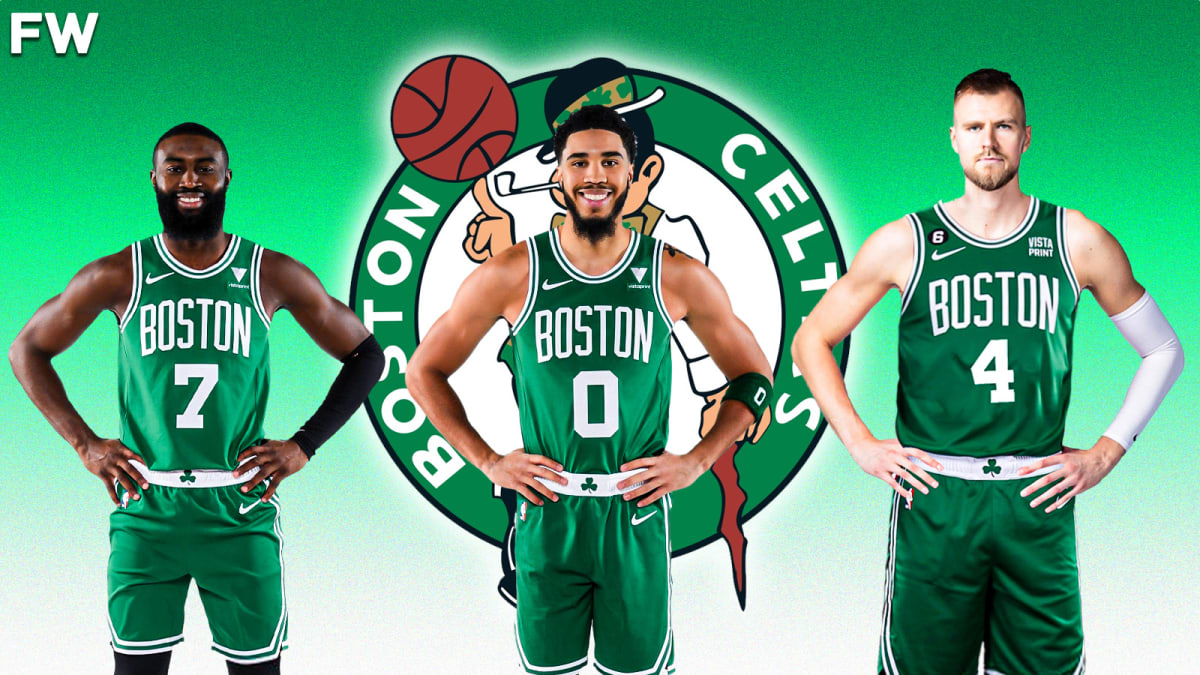 The Boston Celtics have revamped their roster to boost their chances
With a few key changes, the Celtics are in much better shape than last year
They will be keen on breaking that title drought that has lasted for 15 years
The Boston Celtics, a team steeped in rich history and marked by a relentless pursuit of excellence, is gearing up to showcase a season brimming with potential, zest, and the sort of dynamism that both critics and fans have been anticipating. The team is a perfect fusion of the gravitas of seasoned players and the exuberant energy of fresh legs.
Having made headlines with Jaylen Brown signing a historic and record-breaking contract worth $304 million in the offseason, the Celtics are under a spotlight that bears the weight of expectations and the anticipation of something monumental. The strategic play extended further with the acquisition of the towering figure, Kristaps Porzingis, a move that saw the departure of the fan-favorite, Marcus Smart. As the atmosphere in the TD Garden thickens with hopes higher than ever, the meticulous construction of a team that heralds a balanced amalgamation of experience and vigor stands tall, ready to etch a fresh chapter of brilliance and mastery in the annals of the NBA.
Dive deep as we deconstruct the potential powerhouse that is the 2023-24 Boston Celtics, scrutinizing every position with a detailed lens.
---
Point Guards
Derrick White, Malcolm Brogdon
Derrick White stands as a lighthouse in the stormy seas of the league, bringing a rare blend of experience and adaptability to the team's forefront. His leadership on and off the court will be vital in harmonizing the ensemble of young and veteran players into a cohesive unit. He averaged 12.4 points, 3.6 rebounds and 3.9 assists per game last season.
Brogdon, a player known for his sharpshooting and intelligence on the court, adds another layer of depth to the Celtics' offensive arsenal as he averaged 14.9 points, 4.2 rebounds, and 3.7 assists per game last season. His adaptability allows him to fit into various roles, a trait that would be a linchpin in the Celtics' dynamic gameplay strategy. Young guns Dalano Banton and JD Davison hold the reigns of the future, showcasing glimpses of brilliance and raw potential in their nascent careers.
---
Shooting Guards
Jaylen Brown, Payton Pritchard, Jay Scrubb, DJ Steward
Cemented as a cornerstone of the franchise with a record-breaking contract, Brown embodies the Celtics' aspirations. His scoring prowess and defensive intensity set a high bar, fostering a culture of excellence and determination. Before signing the historic contract, Brown averaged 26.6 points, 6.9 rebounds, and 3.5 assists per game while earning his first-ever All-NBA second-team selection.
Pritchard's journey has been characterized by relentless determination. His sharpshooting and ability to create for others will be vital in adding depth to the Celtics' backcourt. Supporting Payton Pritchard are Jay Scrubb and DJ Steward, the dynamic duo tasked with adding depth and flair to the Celtics' offensive strategies.
---
Small Forwards
Jayson Tatum, Sam Hauser, Jordan Walsh, Svi Mykhailiuk
Fresh from an MVP-caliber season, Tatum stands as one of the pillars of the team. The league will be keenly watching his artistry with the ball, his scoring genius, and his leadership, as he remains a frontrunner in the MVP race this season. He had his best year, averaging his career high across major stats with 30.1 points, 8.8 rebounds, and 4.6 assists per game. Tatum also earned his second All-NBA first-team selection while finishing 4th in the MVP voting.
Hauser enters with a sharpshooting reputation. His deep-range shooting provides the Celtics with a weapon that can stretch defenses and create space for his teammates. Hauser enters with a sharpshooting reputation. His deep-range shooting provides the Celtics with a weapon that can stretch defenses and create space for his teammates. Mykhailiuk brings experience and a knack for hitting crucial shots. His versatility will be a boon, adding depth and experience to the forward position.
---
Power Forwards
Al Horford, Luke Kornet, Oshae Brissett, Taylor Funk
Horford's veteran presence is a linchpin for the young Celtics roster. His multi-dimensional play style offers scoring, playmaking, and defensive solidity, fostering a nurturing ground for budding talents while averaging 9.8 points, 6.2 rebounds, and 3.0 assists. Kornet's height and shooting ability present a dual threat that could prove beneficial in the Celtics' offensive schemes, offering spacing and scoring options.
Brissett embodies energy and versatility. His defensive prowess and rebounding abilities will be vital in adding a robust dimension to the Celtics' frontcourt. A rookie with a promising future, Funk will be looking to absorb knowledge and experience this season while showcasing his abilities in sporadic bursts of playing time.
---
Centers
Kristaps Porzingis, Robert Williams
The acquisition of Porzingis marks a significant milestone in the team's reconstruction. His towering presence, coupled with his scoring arsenal, revitalizes the Celtics' offensive and defensive schemes, promising a season of dominance in the paint. Porzingis had his best-ever scoring year as he finished the season averaging 23.2 points and 8.4 rebounds with the Wizards.
Williams, known for his shot-blocking and rebounding prowess, complements Porzingis perfectly, creating a formidable barrier against opponents, promising a rain of blocks and high-flying dunks.
---
The Celtics May Just Have Enough To Win It All
As the Boston Celtics gear up for another exhilarating season, there's an air of palpable anticipation enveloping fans and pundits alike. Coming off a phenomenal streak with two Conference Finals and an NBA finals appearance in the last four years, the Celtics are an embodiment of grit, skill, and determination, bringing hopes of a championship closer to reality.
This year, with the addition of towering figure Kristaps Porzingis, the dynamics seem to have tilted favorably for the Celtics. Porzingis not only amplifies their offensive might, which was unequivocally the best in the league last season but also brings a fortified defense as a seasoned rim-protector.
On the other hand, Jaylen Brown is stepping into the new season with a record contract and the inherent duty to prove his mettle. The stage is equally grand for Jayson Tatum, who is envisaged to escalate to unparalleled heights following a career-best performance last season. Under the stewardship of Coach Joe Mazzulla, a strategic mastermind revered for enhancing team dynamics, the Celtics harbor a fusion of experience and young talent working in harmony.
With a balanced and fortified roster, the Celtics not only aim to maintain their offensive dominance but to couple it with a fortified defense, taking a holistic approach to their game plan. This potent combination might be the magic formula propelling them to not just reach the finals but to seize the coveted championship, bringing the glory days back to Boston. The narrative is changing; the Celtics aren't just hopeful contenders; they are the team to beat, a powerhouse with enough firepower to potentially win it all.
We sincerely appreciate and respect you as a reader of our site. It would help us a lot if you follow us on Google News because of the latest update.
Thanks for following us. We really appreciate your support.