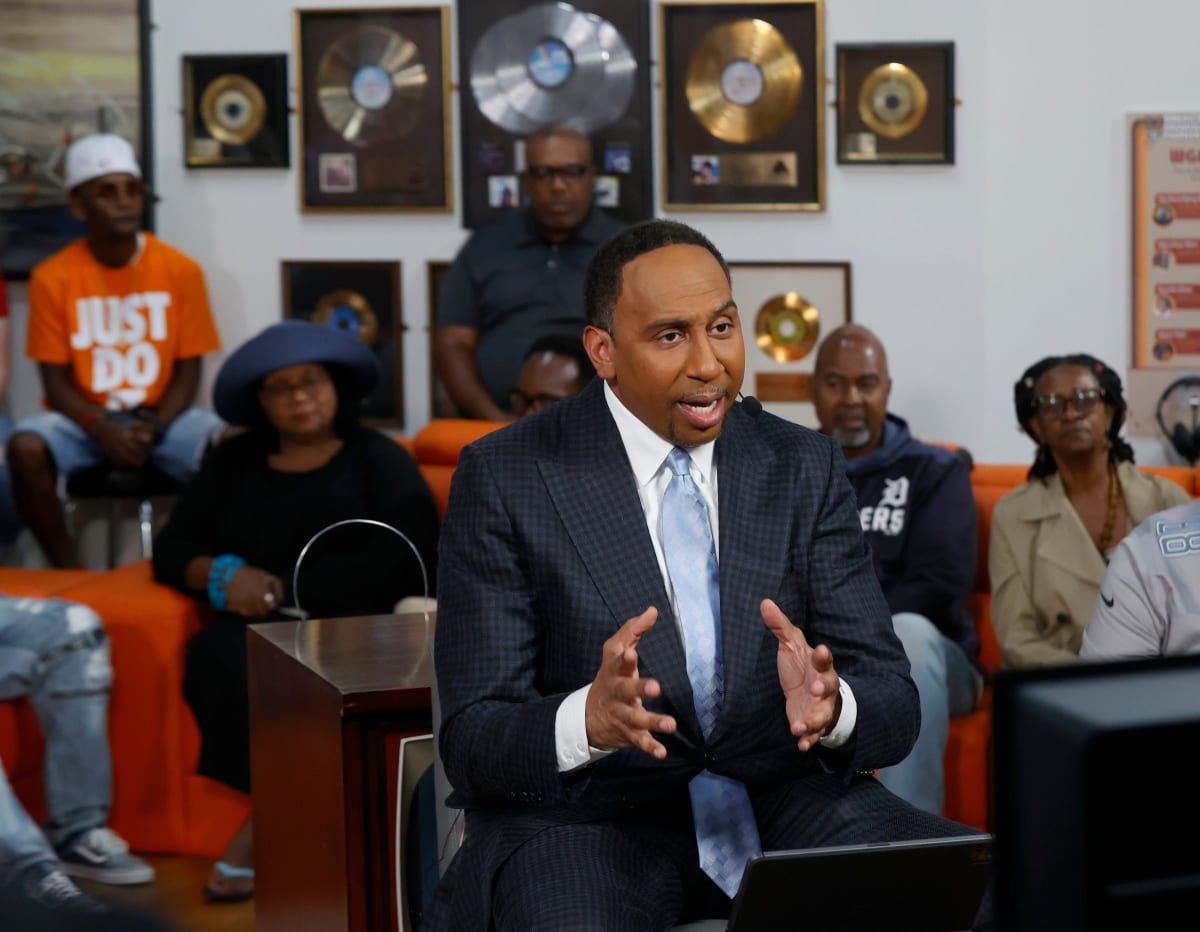 Jason Whitlock claims 80% of fans have 'no interest in ESPN'
He says Stephen A. Smith gets paid $10 million a year but only has 400,00 daily viewers
Jason Whitlock says ESPN and Stephen A. Smith can only get away with it because they have a monopoly
Stephen A. Smith is the biggest name in NBA media, he is undoubtedly the biggest star at ESPN. With his role on First Take, Smith has become a household name in America and is reportedly earning $8 million to $10 million annually.
A former ESPN journalist, Jason Whitlock, has now called out Stephen A. Smith though. He explained that the numbers on his shows aren't that good and he only makes massive money because ESPN has a monopoly.
"I'll zero in on Stephen A. Smith, I'm not trying to pick on him," Whitlock said on his show, Fearless. "But this is what this unfair advantage that ESPN's had has allowed.
"Because again, when 80% of people have no interest in ESPN but they're footing the bill, that's why Stephen A. Smith with 400,000 viewers a day can get paid $10 million.
"It's never made sense. It's a fantasy world he's been able to live in because they have a monopoly. And I was just telling someone, you know, Tucker Carlson… He's got eight to nine times the amount of viewers as Stephen A. Smith and only makes twice the money.
"This is the fantasy world these guys have lived in and they're about to get a wake-up call. And that's why Stephen A.'s now trying to build a YouTube channel."
(starts at 16:38 minutes)
These are some big claims from Jason Whitlock and Stephen A. Smith will surely respond to them at some point. The two haven't gotten along in the past and these comments might renew and spark some beef between them.
---
Stephen A. Smith Reportedly Returned $2.25 Million When Disney Fired 7000 People
Things have been far from comfortable at ESPN, the company recently laid off many employees including high-profile names like Max Kellerman and Jalen Rose.
At one point, their parent company Disney, laid off 7,000 people. Stephen A. Smith revealed how he gave up approximately $2.25 million of his own money when they asked him to take a bit less.
"First of all, we knew it was coming the moment that Bob Iger returned as the head of and CEO of Walt Disney, and a few weeks later, it was announced that 7000 layoffs," Smith said.
"I gave back 15 percent of my salary because they came to you asking you if is that something you can do; you're not forced by the way; it's not force; it's voluntary. They came to me. I was the first one that said, 'Yeah here you go.'"
Whether he is making too much money or not is hard to say, but Stephen A. Smith's commitment to his job and ESPN has never been in doubt. That's what gets him paid more than anything else.
---
Stephen A. Smith's Net Worth Is Reportedly Over $20 Million
It's natural for players in the NBA to become millionaires once they make it to the league, but Stephen A. Smith has paved the way for journalists to make millions as well.
According to Celebrity Net Worth, Smith is worth $20 million with an annual salary of $8 million, which seems to be towards the lower end of the spectrum for him.
The 55-year-old has enough money to casually spend $20,000 on Taylor Swift tickets for his daughter and her friends. He's more than comfortable with the way things are going at the moment.
Stephen A. Smith will likely work in sports media for at least a couple more decades, and if things keep going his way, will continue to make a lot more money doing it too.
We sincerely appreciate and respect you as a reader of our site. It would help us a lot if you follow us on Google News because of the latest update.
Thanks for following us. We really appreciate your support.