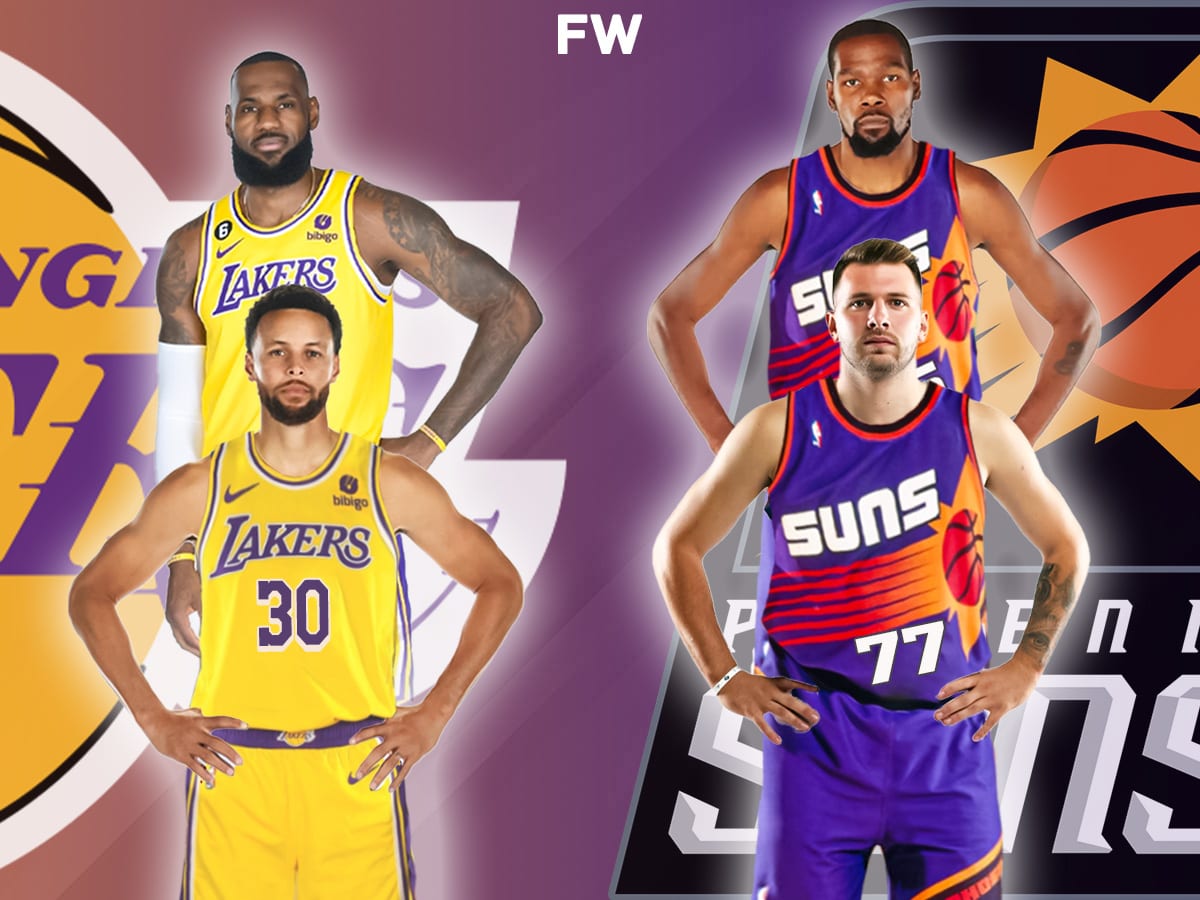 Stephen Curry and Luka Doncic are two of the best players in the NBA today
NBA fans were asked which trade would be more league-altering, Curry on the Lakers or Luka on the Suns
Fans made strong cases for each
Imagine a crazy scenario where Stephen Curry ended up on the Los Angeles Lakers and Luka Doncic was on the Phoenix Suns. How league-altering would that be? Well, that was the exact scenario put to NBA fans, and they debated which move would shake things up more.
View the original article to see embedded media.
A fan is going with Curry, "Curry and LeBron is the correct answer. They both match well together. Luka is just another harden. He can not play with no other star player because he doesn't know how to nor wants to play without the ball."
One says it is absurd to not pick the Suns, "The fact ya see that now in the CURRENT NBA that LeBron and Curry would be a better duo than just D Book and Luka alone is absurd. Not even mentioning Beal and KD. I recognize Curry and LeBron's greatness but LeBron can't keep up with either D Book, KD, Beal, or Luka. Curry can though."
One feels the Curry-LeBron pairing would just be too much, "Bron and Curry are not fair."
A fan shared an interesting response to this question, "For the culture, the Lakers, but for winning the Suns."
One believes this isn't really close, "Curry to the Lakers by a landslide."
The fans did tend to side with Curry to the Lakers being the bigger move. They believe him alongside LeBron James would just be too much for the opposition to handle.
---
Which Is The More League-Altering Trade?
If I had to pick one here, I'd go with Curry to the Lakers as well, for some of the reasons that were mentioned. Doncic is incredible, averaging 32.4 points, 8.6 rebounds, 8.0 assists, 1.4 steals, and 0.5 blocks per game last season, but we have seen his struggles in figuring out how to best play alongside another star in Kyrie Irving.
When the 24-year-old is on the Suns in this hypothetical scenario, he'd have to share the ball with Kevin Durant, Devin Booker, and Bradley Beal. For an inherently ball-dominant player like Doncic, it's just going to be too much.
On the other hand, Curry would be a perfect fit with the Lakers. LeBron and Anthony Davis need shooters around them and the added bonus with Steph, who averaged 29.4 points, 6.1 rebounds, 6.3 assists, 0.9 steals, and 0.4 blocks per game last season, is that he doesn't need the ball in his hands.
They'd honestly be an unstoppable trio and fortunately for the rest of the league, it won't ever happen.
---
The Lakers And Suns Will Be Serious Contenders This Upcoming Season
While the Lakers won't be adding Curry and the Suns won't be adding Doncic, I expect both teams to be serious contenders. They're both probably just below the Denver Nuggets, the defending champions, when it comes to favorites to come out of the West.
These two could have met in the Conference Finals last year, but the Nuggets beat the Suns in six games in the semifinals before going on to sweep the Lakers. Both teams would be confident of a different outcome in 2023-24, however.
The Lakers and Suns had made big moves mid-season in 2022-23 and would feel if they had more time together as a group, they might have fared better. With a proper pre-season under their belt, I'd expect them to improve on last season. Would it be enough to topple the Nuggets? Well, we'll have to wait for a while to find that out.
We sincerely appreciate and respect you as a reader of our site. It would help us a lot if you follow us on Google News because of the latest update.
Thanks for following us. We really appreciate your support.