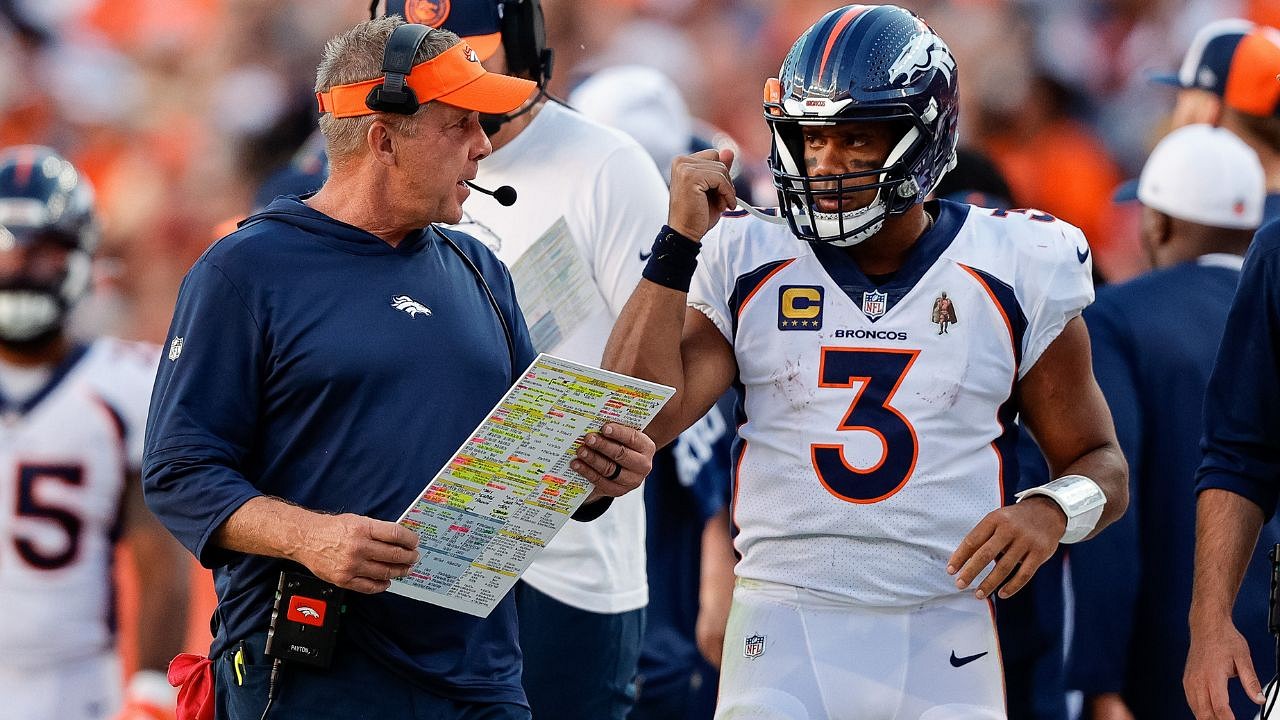 Russell Wilson lost his second game of the season against the Washington Commanders and things are not looking good for Sean Payton's Broncos already. What was believed to be a retribution season appears to be a rewind of the previous year. Colin Cowherd via 'The Volume' also stated that it is only going to get worse from here.
In his latest take on Russell Wilson through his podcast, Cowherd mentioned that Russell Wilson, 34, is playing like a 39-year-old and that he seems to have no juice left. Wilson was very eager to make a comeback this season with a new head coach and an improved team. But after he lost his second game to a mediocre Commanders team, the problems with the Broncos started to surface.
Colin Cowherd Isn't Impressed With Russell Wilson
Russell Wilson is having a tough time securing wins once again. It appears that it is going to be a repeat of his adversity-driven 2022 season, which many thought was the case since the start of the offseason. Despite the Broncos' move to hire Super Bowl champion, HC Sean Payton, the offense is as lackluster as before. Adding on to it Cowherd had his views very clear.
Loading embed instagram https://www.instagram.com/reel/CxUFcV5M8SY/?utm_source=ig_embed&utm_campaign=loading
"Russell Wilson is 34 and looks like he's 39," Wilson said. "He does not have the juice he had previously. I don't know if some of it's confidence, emotional, no major surgeries, 34. He plays much, much older than his age. I think they're headed for major turbulence in Denver. This is a massively punitive contract to the Broncos with a coach and a quarterback with completely different personalities."
Wilson certainly has to go to extra lengths to prove everyone wrong this season but so far it is only looking bad for the Broncos. So far he has completed 45 of 66 passes and recorded 485 yards for five touchdowns and one interception but no wins. However, Cowherd believes that a storm is approaching the Broncos as they go on the road for the next two weeks.
A Storm Is Approaching the Denver Broncos
The Broncos played their first two games which were against the Raiders and the Commanders in the Empower Field at Mile High. Now they will hit the road to play against the Dolphins and the Bears. And their fixtures from here only look more challenging.
"This is only going to get worse," Cowherd added. "The schedule's only going to get tougher. Now they go on the road. Never seen a quarterback have it lose it without a major injury pre-35 years old. Never seen it. I have no comp."
The Broncos will dance their first game against the Chiefs on 12th October in the Arrowhead. Their other big games will be against the Bills on the 13th of November, the Browns on the 26th of November, the Chargers on the 10th of December, and a home game against the Chiefs on the 29th of October. It will be seen what fate has to offer to the Broncos this season.