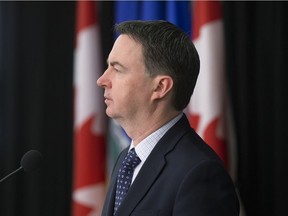 Article content
Citing a need to "act urgently" to address issues in Alberta's primary health-care system, Health Minister Jason Copping announced three advisory panels Friday that will report back on solutions next spring.
Article content
Copping said the COVID-19 pandemic worsened access to family doctors and other primary care providers, but it's time to face deeper structural problems.
Article content
"We need to act urgently to stabilize and reinvest in primary care right now, while also starting the work to design a vision for the longer term," he said.
"The issue is the model we've constructed that, quite frankly, for the most part, hasn't changed in decades: the model of independent practice, the way they're paid, the integration — or quite frankly, lack thereof — with specialists and the rest of our health-care system."
Article content
According to the government, the first panel will be co-chaired by family physicians Dr. Brad Bahler and Dr. Janet Reynolds, and it will also include other primary health care leaders, patients and experts. National and international primary care experts will form the second panel, chaired by Canada Homegroup CEO Dr. Jennifer Njenga and AHS senior medical director for health system integration Dr. Richard Lewanczuk.
Trish Merrithew-Mercredi will be one of the chairpersons of the Indigenous panel, which will ensure Indigenous voices and knowledge are integrated in the recommendations.
The first panel is responsible for recommending an overall strategy for health system improvement, informed by the other two expert groups.
Article content
In a statement, Alberta NDP health critic David Shepherd panned the health minister's plan and accused the UCP government of causing "deep harm" to Albertans who can't find a family doctor.
"Today's announcement is a vague plan to make a vague plan," he said.
"The UCP should have negotiated in good faith with doctors from the beginning. Instead, they tore up their contract, attacked them online and in the media, and particularly targeted family doctors."
The announcement comes as the Alberta Medical Association (AMA) is in the midst of voting on a new tentative deal with the government, more than a year after doctors voted to reject a previous agreement.
Doctors have been without a master agreement since early 2020, when then-health minister Tyler Shandro scrapped the province's contract with physicians, touching off a bitter and often very public fight that prompted some doctors to leave Alberta or threaten to move their practice.
Article content
On Friday, Copping said the new agreement is about "stability," especially for family practices and primary care networks. He also pointed to an earlier announcement of $6 million over three years to recruit and retain family doctors in rural and remote parts of the province.
If the panels have ideas that can be implemented before the final report is due in spring 2023, Copping suggested they could be rolled out sooner. But he said the effort will take time since primary care providers need to be adequately consulted.
He said reforms to primary care are his "top priority" heading into the fall — less than two weeks before the UCP leadership race concludes, with the spectre of next year's election also looming.
"I'm confident that this work will be valuable regardless of who's in the chair because it's necessary."