Deion Sanders has excelled as head coach at Colorado
Sanders has been criticized for his arrogance, however
Gabrielle Union took some offense to that
There have been calls for NFL legend and current Colorado head coach Deion Sanders to be more humble, and Dwyane Wade's wife, Gabrielle Union, has an issue with that. Union posted an Instagram story where she seemed to insinuate there might be a racial element in play.
"Always interesting who they want to 'humble.'"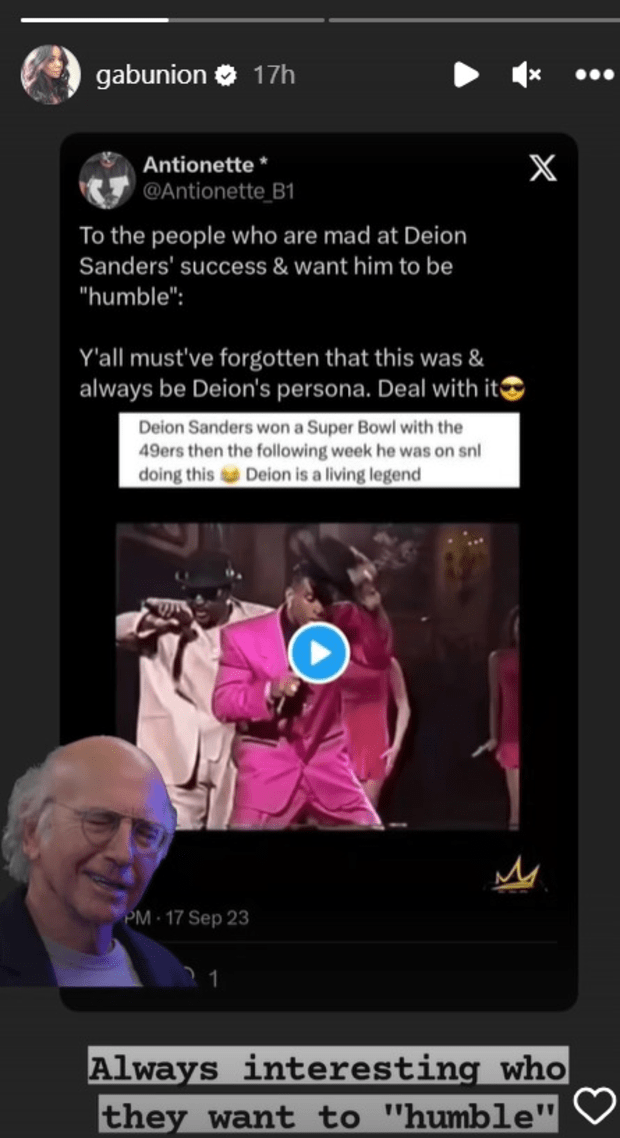 She didn't explicitly say it, but there would be many who'd be feeling something along these lines. Sanders is just being who he has always been, as even during his legendary NFL career, he was brash and arrogant.
It is his persona and he's not going to change, just because some people are offended by it. There's an easy way to shut him up, which is to beat his team, and that's something that no one has done so far.
---
Deion Sanders And Colorado Are On A Roll
Sanders was joining a program in Colorado that had just gone 1-11 in the Pac-12 in the 2022 season, and no one was quite sure what to expect. He had some success in three seasons as head coach at Jackson State sure, but there was a lot of uncertainty.
Well, Sanders has turned things around spectacularly and has done so in a flash. The Buffaloes are now relevant for the first time in ages, all thanks to him.
They started their college football season by beating last season's runner-up in TCU 45-42. A 36-14 hammering of Nebraska followed, after which they took on Colorado State. It was a rivalry game and shots had been fired at Sanders by opposing head coach Jay Norvell, for the way he conducted himself.
The 56-year-old wasn't going to change, of course, and his team proceeded to win 43-35 in double overtime. They are in dreamland now but will face their toughest challenge yet in Oregon on September 23. If you thought Sanders is a bit too much now, it's going to get a lot worse for you if they win that game.
---
Gabrielle Union And Dwyane Wade
On the personal front for Union, she and Wade are going as strong as ever. Just a few weeks back on August 30, Wade shared a heartwarming anniversary message to Union, where he called their love story the best win yet. The two had gotten married back in 2014 and have become quite the power couple.
When they first met in 2007, though, Union had no interest whatsoever in Wade. She did gradually warm up to him, and it's rumored that they started dating around 2009. They went public with their relationship in 2010 and then got married four years later.
They have one child together, Kaavia James, who was born via surrogate in 2017. She is also the stepmother for four of Wade's children from previous relationships. That is always a tricky situation, and Union spoke about being a stepmom to Wade's kids. She had to learn how to be consistent and nurturing toward all of them, and to her credit, she has done a very good job of it.
We sincerely appreciate and respect you as a reader of our site. It would help us a lot if you follow us on Google News because of the latest update.
Thanks for following us. We really appreciate your support.