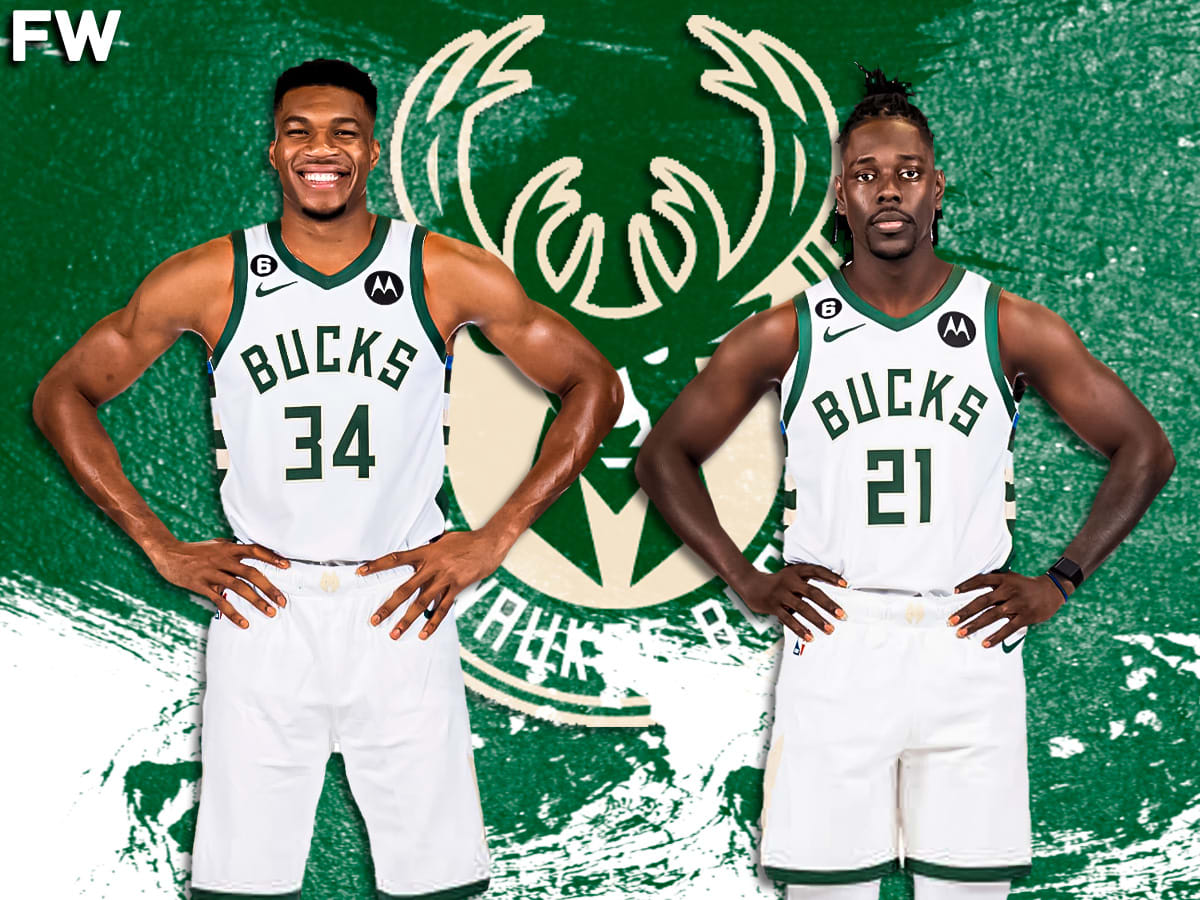 Jrue Holiday's future could be key to keeping Giannis Antetokounmpo for the Milwaukee Bucks
Holiday will be eligible for an extension this year
Giannis Antetokounmpo has already hinted that he's willing to leave the Bucks
Superstar Giannis Antetokounmpo is the face of the Milwaukee Bucks right now, and there's no doubt that they will be contenders as long as he is on the roster. However, his future with the franchise has recently been called into question.
Many people believe that Giannis Antetokounmpo could end up leaving the Milwaukee Bucks in the future. In fact, Antetokounmpo himself hinted at a potential breakup with the Bucks. Recently, NBA insider Bobby Marks suggested that Jrue Holiday's situation with the team could be the swing factor for Antetokounmpo.
"I don't think he's going to sign an extension, it doesn't make sense financially," Marks said. "I would be concerned based on what happens with Jrue Holiday. I think that's going to be the X-factor, what I'm going to keep an eye on because Holiday is extension eligible starting up I think February 22, potentially could be a free agent next year. What does Milwaukee do with him, if they lose him they're going to be in deep trouble."
For Giannis Antetokounmpo to stay with the Milwaukee Bucks, they will have to prove that they are willing to continue competing at a high level. Keeping Jrue Holiday would obviously be one way to show their commitment to that, and we'll see what happens in the future.
This past season, Jrue Holiday averaged 19.3 points, 5.1 rebounds, and 7.4 assists per game, while shooting 38.4% from 3Pt range. He is one of the best two-way players in the league, and hopefully, the Bucks find a way to keep him long-term.
---
The Los Angeles Lakers Could Target Giannis Antetokounmpo
If Giannis Antetokounmpo were to leave the Milwaukee Bucks, then a number of teams would likely try and get him. After all, he is a top-tier superstar and can make any team top-tier. One potential destination has already been revealed, and the Lakers could be a potential future franchise for Giannis Antetokounmpo.
"The Lakers and the Knicks are already being mentioned as franchises presumed to interest Antetokounmpo down the road if he does decide to move on from Milwaukee,"
There is no doubt that Giannis Antetokounmpo could be a game-changer for the Los Angeles Lakers. If they were able to land him without moving LeBron James or Anthony Davis, they would immediately become the favorites in the Western Conference, and we'll see what happens in the future.
---
There Is Only One Way For The Los Angeles Lakers To Land Giannis Antetokounmpo
Though it is fun to imagine Giannis Antetokounmpo teaming up with Anthony Davis and LeBron James on the Lakers, the prospect of that is almost impossible. In fact, previously, we saw an NBA executive reveal that the only way for the Lakers to land Antetokounmpo is by trading Anthony Davis.
"If the Lakers wanted Giannis, they'd have to convince Milwaukee AD is healthy, then make the trade. It is just too much money to try to sign him in free agency if LeBron is still there… To me, they'd have to trade him for Davis. that's the only way he gets to L.A."
Though Anthony Davis is a good player, it is quite possible that the Lakers would be willing to trade him for Giannis Antetokounmpo. It is fair to say that Anteokounmpo is more durable and consistent, and he would give the team a new face after LeBron James retires. With that being said, no trade is imminent, but anything is possible in the NBA.
We sincerely appreciate and respect you as a reader of our site. It would help us a lot if you follow us on Google News because of the latest update.
Thanks for following us. We really appreciate your support.