The Boston Celtics lost to the Utah Jazz after Grant Williams was unable to make the final shot. Jayson Tatum was asked about it, but he said he doesn't care if he's not the one to take it.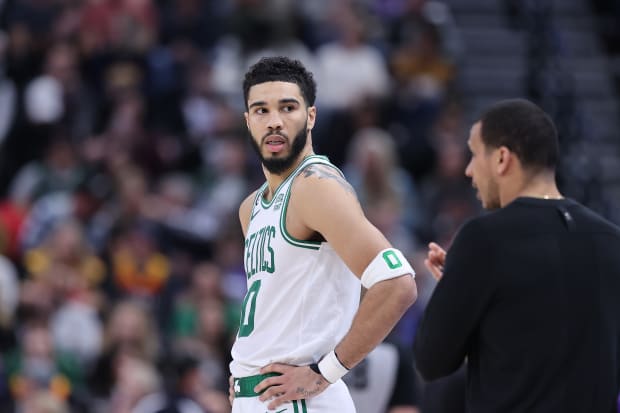 The Boston Celtics lost a close game to the Utah Jazz on Saturday night that led to them dropping to 3rd in the Eastern Conference standings. Walker Kessler got the crucial block at the end on Grant Williams that sealed the win for the Jazz.
Jayson Tatum is the superstar of the Boston Celtics, but he was not the man to take the final shot that might have won them the game. After it was over, Jayson Tatum admitted that it didn't bother him.
"No, I'm not frustrated at Grant. If he made it everybody would be happy. I ain't got no ego, I'm just trying to win. Joe [Mazulla] can draw up a play for me, but there's other options… I'm not mad that Grant [Williams] took that shot and didn't pass it to me. It's basketball," Jayson Tatum said.
It was a particularly rough game for Jayson Tatum, who managed just 15 points despite playing 38 minutes in the game. He was 4-12 from the field and made just 3 three-pointers. Grant Williams had 23 points on the night and was efficient as well, so it makes some sense for him to have taken the final shot.
Regardless, Celtics fans will love this answer from Tatum. He has shown that he is willing to let his teammates shine as long as they win. But when the result is a loss like the Jazz game, tough questions will be asked. If he wants to become a true NBA superstar, Tatum will have to start claiming the big moments and stop having so many bad games.
---
Jayson Tatum Has Been Inconsistent During The Celtics' Recent Run Of Games
Jayson Tatum has been prone to putting up some poor performances for the Boston Celtics recently. In their last 9 games, the Celtics are 4-5, and Jayson Tatum is shooting just 41% from the field and 28% from three-point range during that stretch. These numbers are not on par with what other superstars are doing, and he needs to step it up again.
In his last 16 games, there have been 5 times where Tatum has scored less than 20 points. In half the contests, he's had less than 25 points. The Celtics man was criticized quite a bit for his performances in the NBA Finals last season, and if he doesn't find a way to be consistent, then questions will continue to be asked about his ability to lead his team to a championship.
We sincerely appreciate and respect you as a reader of our site. It would help us a lot if you follow us on Google News because of the latest update.
Thanks for following us. We really appreciate your support.