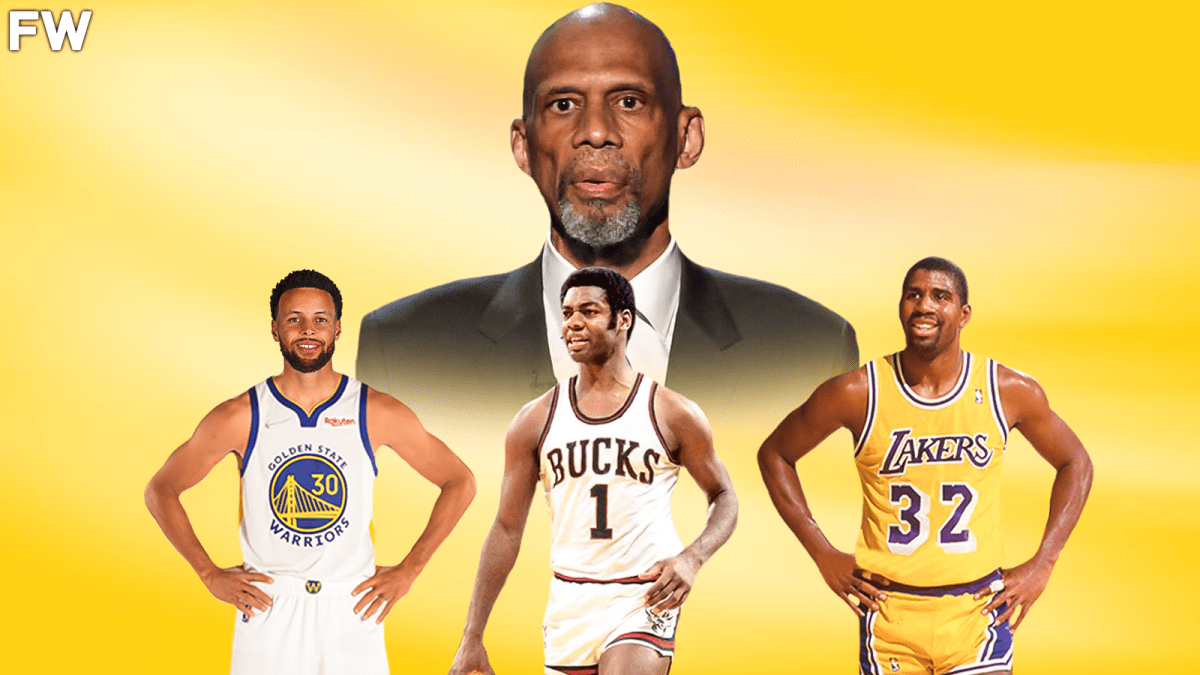 Magic Johnson and Stephen Curry have been mentioned a lot recently in the debate about the GOAT NBA point guard
Kareem Abdul-Jabbar, who is in the larger GOAT conversation himself, surprisingly chose neither
Kareem Abdul-Jabbar picked Oscar Robertson over Magic Johnson and Stephen Curry
Kareem Abdul-Jabbar is among the greatest players of all time and has a case to be considered the GOAT. But he was recently asked about who the GOAT point guard is and his answer was a bit surprising.
"I don't think you're gonna wanna hear this but Oscar Robertson. The Big O," Kareem Abdul-Jabbar said when asked to pick the greatest point guard ever.
"I played with him, I only had the chance to play with him at the end of his career. But he was awesome and people had seen him play in the prime of his career."
Kareem Abdul-Jabbar then went on to praise Oscar Robertson's three-point shooting, saying, "Oscar had three-point range, but he never got to play when the three-point shot was incorporated into the game.
"And people don't understand how significant he was in how to play the game… I know Stephen Curry, and LeBron, Kobe, and Magic, are superior, but I would have to go with Oscar."
Oscar Robertson averaged 25.7 points, 7.5 rebounds, and 9.5 assists per game in his career, he is certainly one of the greatest to ever do it. He also was the only player in NBA history to average a triple-double across a season until Russell Westbrook did it in his MVP season.
He deserves his flowers and love, but most people would have expected Kareem Abdul-Jabar to pick a different former teammate of his.
---
Kareem Abdul-Jabbar Won Five NBA Championships With Magic Johnson
While Kareem Abdul-Jabbar won his first NBA championship alongside Oscar Robertson on the Milwaukee Bucks, he saw a lot more success playing alongside Magic Johnson.
Magic Johnson and Kareem Abdul-Jabbar played together for the Los Angeles Lakers for 10 years, and they won five NBA championships during that time.
Magic Johnson won three MVP titles and three Finals MVPs during that time too, something Abdul-Jabbar witnessed as his teammate.
Most NBA fans would think that Kareem would choose Magic when asked this question, but it seems that he felt better about picking his first great teammate over the one he spent more time playing alongside.
---
Michael Jordan Backed Magic Johnson As The Greatest Point Guard Ever
After a comprehensive analysis, our writer Nick Mac concluded that Magic Johnson is the greatest point guard ever. And it's not just the formula that points to that conclusion either.
The man who would beat Kareem Abdul-Jabbar on most people's GOAT lists, Michael Jordan, also made the case that Magic Johnson is the greatest to ever play the position.
"Magic Johnson is easily the best point guard of all time. Steph Curry is very close but not in front of Magic. You must define point guard to really have a serious debate," Jordan told Stephen A. Smith.
Magic Johnson invented the triple-double. Not truly invented, but makes it more noticeable in terms of the impact on the game. It's a point guard stat, to be honest… By the way, Magic has five NBA championships.
Magic Johnson changed the game and many would argue he saved the NBA during his career as well. There will always be arguments to be made for different legends of the game, but it's hard to deny Magic Johnson the title of the greatest-ever point guard.
We sincerely appreciate and respect you as a reader of our site. It would help us a lot if you follow us on Google News because of the latest update.
Thanks for following us. We really appreciate your support.