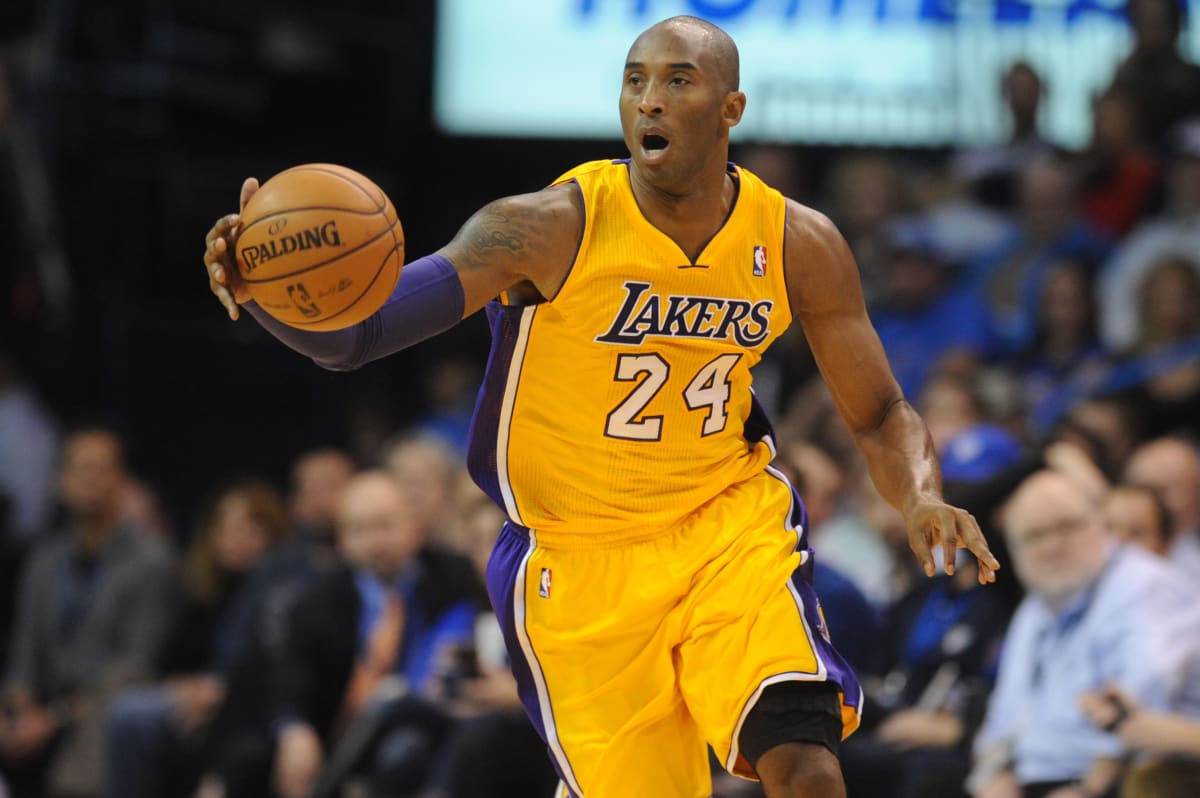 Kobe and Esfandiari engage in a lavish champagne showdown, epitomizing competitive spirit
Bryant exhibits a relentless competitive nature, spending $21,000 on champagne bottles
Stories symbolize Kobe's indomitable spirit, inspiring commitment to excellence posthumously
From the courts of the NBA to the high-energy environment of a Las Vegas nightclub, the late great Kobe Bryant's competitive spirit knew no bounds. This spirit once led him to face off against poker legend Antonio Esfandiari in an unanticipated but equally thrilling champagne showdown that cost $21,000 dollars.
The narrative unfolds back in 2007 during the grand opening of BLUSH Boutique Nightclub in Las Vegas, a glamorous affair graced by high-profile individuals including Kobe and his wife Vanessa. The evening took a competitive turn when Antonio "The Magician" Esfandiari ordered two bottles of the lavish Cristal champagne, each priced at a hefty $1,400.
In response to this, Kobe could not resist but elevate the stakes, ordering not just to match but to surpass Esfandiari with an order of five bottles. This spurred a back-and-forth, with Esfandiari responding with an order of 10 bottles, an amount that would certainly have turned many heads in the venue.
However, Kobe had the final say in this opulent duel, showcasing a grand gesture that would be talked about for years to come. The basketball legend clinched victory by purchasing 15 bottles of the elite champagne, tallying to a monumental sum of $21,000, before walking out of the club in what can only be described as a truly magical moment showcasing the unyielding competitive nature of the 'Black Mamba'.
Stories such as these continue to circulate, painting a picture of a man who lived life with a relentless pursuit of victory and perfection. Though tragic events unfolded in January 2020, taking away a legend much too soon, the tales of Kobe's undying spirit and his readiness to embrace challenges with a winning mindset continue to inspire many, solidifying his legacy as a man who truly stood above the rest in his commitment to excellence both on and off the court.
---
Kobe Bryant Challenged Sue Bird To A Drinking Contest
In a rare glimpse into the competitive nature of late NBA legend Kobe Bryant outside the basketball court, WNBA icon Sue Bird recounted a memorable encounter during the 2008 Beijing Olympics that deviated from what Phil Jackson, the legendary head coach, characterized as Bryant's sports-centric competitive aura.
According to Bird, she and her friends were in a relaxed setting, enjoying some wine while engaging in a card game. This tranquil scene took a turn when Bryant joined the gathering, showcasing a different facet of his competitive spirit, one not confined to the basketball court.
Adding a peculiar twist to the interaction, Bryant spontaneously tore up a newspaper photo of Paul Pierce, a gesture signaling "motivation" after the Los Angeles Lakers' recent defeat in the 2008 NBA Finals. This act alone showed Bryant's deep-seated desire for victory, a characteristic inherent to great athletes.
But the night took a lighter turn when Bryant suddenly initiated a drinking contest with Bird and her crew. In a boisterous attempt to surge ahead, Bryant quickly consumed three glasses of wine, asserting a playful yet assertive lead in the impromptu competition.
Bryant's playful challenge not only illustrated his all-encompassing competitive spirit but also shed light on his ability to foster camaraderie and joy through a friendly challenge. It was a night where his iconic 'Mamba mentality' met with a touch of mirth, painting a rounded picture of a man who lived to compete and cherished the spirit of good-natured rivalry. This anecdote adds a charming layer to Bryant's personality, revealing a champion keen on winning, be it on the court or during a spontaneous drinking contest.
---
Kobe Bryant Anihalted Michael Jordan After His Airness Mocked The Black Mamba
In the storied annals of NBA history, the riveting rivalry between Kobe Bryant and his idol Michael Jordan holds a place of preeminence. In the 2002-03 season, a charged episode unfurled, illustrating the fierce competitive spirit harbored by both legends. Following a one-point loss handed down by Jordan and the Wizards on November 8th, 2002, the air became thick with contention when Jordan purportedly taunted Bryant, emphasizing that despite Bryant's attempts to emulate him, he would "never fill these shoes".
This jibe stung deep, awakening a furious resolve in Bryant. As recounted by former Wizards guard Gilbert Arenas, Bryant retreated into a silent cocoon for two weeks, boiling with focused rage aimed squarely at one target — Michael Jordan. Phil Jackson acknowledged Bryant's furious resolve, an anger fuelled by Jordan's dismissive remark, a sentiment that echoed among the team, foreboding a fiery rematch.
Come March 28, 2003, the silence shattered explosively on the court. A man on a mission, Bryant unleashed a tour de force against Jordan and the Wizards, scoring an eye-watering 55 points, a masterful performance that included a staggering 42 points in the first half alone. With a shooting accuracy of 51.9%, including 9-of-13 from the 3-point range, Bryant led the Lakers to a dominating 108-94 victory.
This electrifying retaliation wasn't just a game victory but a powerful statement on a personal battlefield, transcending the regular stakes of a basketball match. While Jordan's playful jab was meant to evoke competitive spirit, it brought out a fiercely untamed side of Bryant, making the court a canvas for the Black Mamba to paint a masterpiece of tenacity, skill, and unyielding determination. It was more than a game; it was Bryant demonstrating that not only could he "fill those shoes," but he could also forge a legendary path of his own.
We sincerely appreciate and respect you as a reader of our site. It would help us a lot if you follow us on Google News because of the latest update.
Thanks for following us. We really appreciate your support.