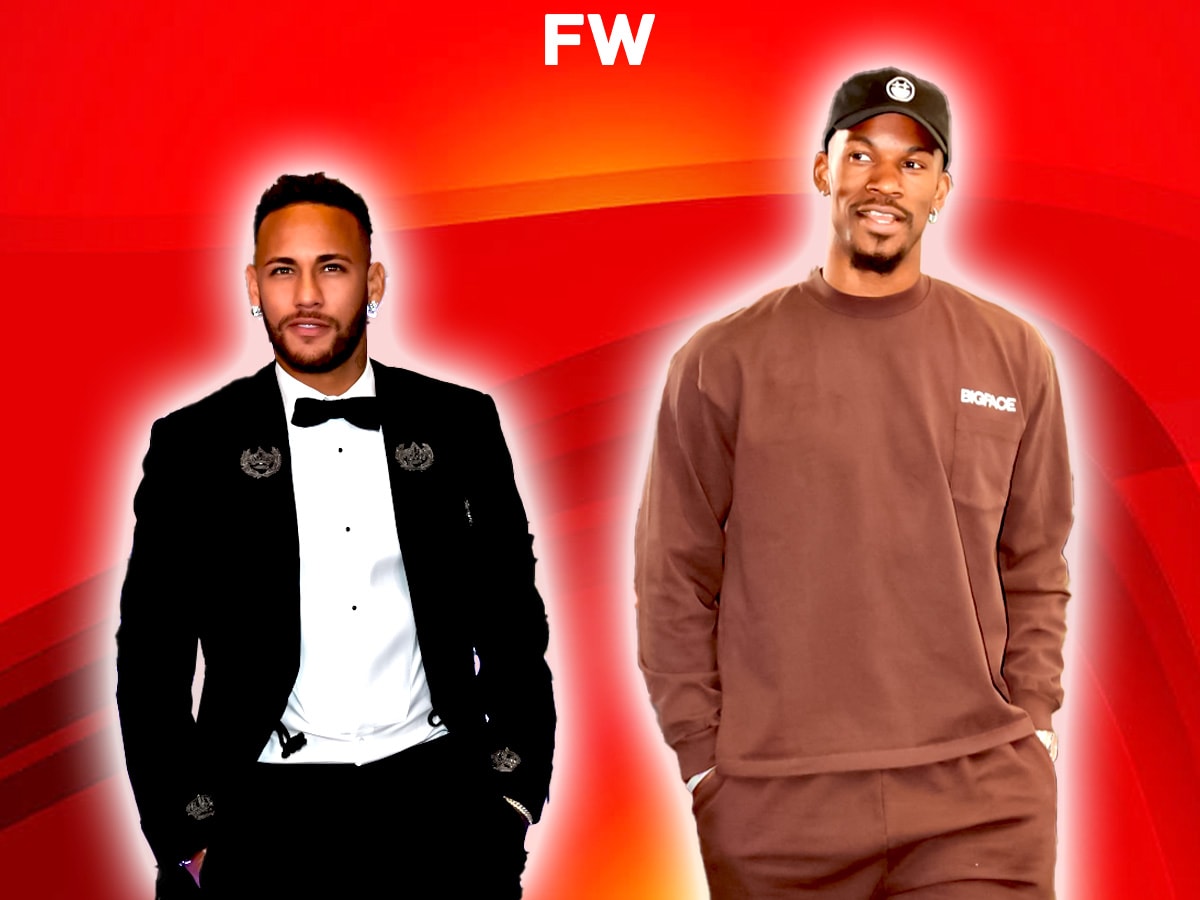 Jimmy Butler has had an eventful offseason
Butler was spotted with Neymar Jr. recently
The Brazilian bet that Butler couldn't touch the ceiling
Brazilian soccer star Neymar Jr. didn't think Jimmy Butler had it in him to touch the ceiling of a room they were in. Neymar bet that Butler couldn't reach it, and the Miami Heat star gladly accepted the challenge.
View the original article to see embedded media.
Butler stands at 6'7″ and is reported to have an almost 40-inch vertical, so this might not have been the smartest bet from Neymar. Butler is also hyper-competitive like Michael Jordan, so there was no way he was going to take it easy.
He was going to try his absolute best to win, and I had no doubt that he'd get there. While the Brazilian lost this bet, earlier this year Neymar had won a $100 bowling bet against Butler and his friends.
---
Jimmy Butler And Neymar Are Close Friends
These two have grown quite close over the years and do spend a fair bit of time with each other. Butler and Neymar were hanging out before Game 3 of the NBA Finals earlier this year, and the latter even attended Game 4.
The Heat would, unfortunately, lose to the Denver Nuggets in the Finals, but not too long after that, Butler and Neymar were also seen singing "Love Yourself" on stage together. The two have just formed a special bond.
It all really began during the 2016 Olympics, when Butler was in Brazil with Team USA. There he saw his first-ever soccer match, the final between Brazil and Germany. Neymar scored a goal and the winning penalty in the shootout that day, and Butler became a big fan.
He started sporting Neymar merchandise and by 2018, they had become very good friends. Butler had even traveled to France in the past to see the Brazilian in action for Paris Saint-Germain. It's great to see just how well these two get along with each other.
---
Jimmy Butler Is Reportedly Dating Shakira
Apparently, Neymar isn't the only global superstar that the 34-year-old is very close to. Butler sparked dating rumors with Shakira after they were spotted following a dinner in London. It would appear she has found a great partner in him, as Us Weekly reported that Shakira feels happy spending time with Butler and that he makes her smile.
One of the concerns, though, surrounding this pairing was that she is 46 years old while Butler is in his mid-30s. Shakira, however, is not bothered about the age gap between her and Butler, and at the end of the day, if he truly makes her happy, this kind of gap isn't really an issue.
Shakira had previously been in a relationship with Neymar's former teammate Gerard Pique from 2011 to 2022. It was rumored that the split was due to Pique cheating on her, but nothing has been confirmed on that front.
We sincerely appreciate and respect you as a reader of our site. It would help us a lot if you follow us on Google News because of the latest update.
Thanks for following us. We really appreciate your support.