Pelicans reportedly made big offer in spurned trade attempt.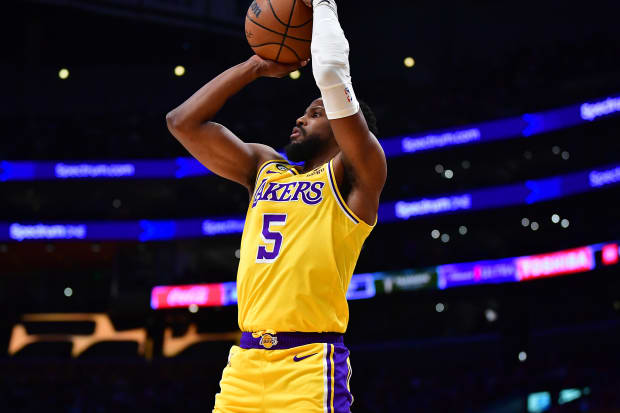 The NBA trade deadline was a huge turning point for the Lakers this season. After dragging through the first fe months with Russell Westbrook, RobPelinka pulled the trigger and made a deal for Jarred Vanderbilt and Malik Beasley (among others) that drastically improved the team.
But did you know that the Pelicans nearly acquired them as well? Speaking on 'The Lowe Post," NBA Insider/analyst Zach Lowe got real on the Pelicans and their last-ditch effort to save their spiraling season.
"The Pelicans were close to getting Beasley and Vanderbilt from Utah at the trade deadline, or close-ish," Lowe said. "They had a pretty good offer on the table. It was a draft equity-based offer with a pick that maybe was not as good as the Lakers pick that they ended up trading, but pretty close, I think, from what I've heard. But one of the issues was maybe the picks weren't exactly equivalent, but then another issue was Conley and the Jazz's determination to get off of [Conley's contract], and could the Pelicans figure that out somehow? And it became a little complicated."
Neither Vando nor Beasley is scheduled to make an All-Star team anytime soon, but they are high-value role players who bring depth and much-needed balance to any contending team.
And for a Pelicans squad that is very much in need of reinforcements, missing out on those players to a Western rival was bad news.
---
What's Next For The Pelicans?
The Pels were one of the few teams who really didn't make any major moves this season. They chose to bet on their guys and while they were right in terms of talent and depth, the team crumbled when Zion went down with his latest injury.
Now, the team is fighting for a spot in the play-in tournament with no sign on when Williamson will return.
"I don't think Zion Williamson is going to play 70+ games," said former NBA player Eddie Johnson. "I've said this even before he got drafted. We've never seen a body this big, this explosive play this game. He puts so much torque on his body. His body is not built to play this game. It's not. But he is very good at this game. And that's why he plays it. But he's going to pay a price, man. That was ugly right there, that was ugly, that was non contact… That tells me he has some tightness going on."
All the Pels can do now is keep fighting and hope for good health for their superstar player. If he is able to come back and stay healthy, the Pelicans may just have enough to shock the world.
But,m without him, they just don't have enough to compete with the best of the best.
We sincerely appreciate and respect you as a reader of our site. It would help us a lot if you follow us on Google News because of the latest update.

Thanks for following us. We really appreciate your support.